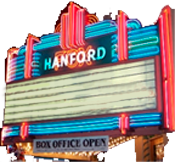 Saturday, November 20, 2021 @ 07:00PM
Tickets: $8.50 advance reserved seating, $10, day of show general admission. Please note: There is a $2.00 fee per order, not per ticket, added to all purchases made for reserved seating and to all purchases made via credit card.

Directions
We are on the corner of Irwin St. and West Lacey Blvd.
326 North Irwin St. Hanford, CA 93230
From Fresno on Hwy 41 (south):
Lacey Blvd. ( east, left) to Irwin St.
To 326 N. Irwin St. ( on the left hand corner)
From Fresno on Hwy 99 South through Selma to Hwy 43 South:
To Grangeville Blvd (West/Right)
1 mile to Irwin (South/Left)
To 326 N. Irwin St.
From Visalia:
Hwy 198 (West) to Hanford
Exit Redington (North/Right)
To W. Lacey (East/Right)
To Irwin St.(North/Left)
From Bakersfield:
Highway 99 North
To Hwy 198 (West) to Hanford
Exit Redington (North/Right)
To Irwin St. (North/Left)
From Coalinga on Hwy 198 (East) to Hanford:
Exit on 11th Ave. (North/Left)
To W. Lacey (West/Right)
To Irwin St. (North/Left)